My second adventure of the hike started on a lovely January morning.  It was quite cold that day, temperatures around zero and the trees in the forest where partly frozen in the morning.
The hike would be a round tour and lead me to Elpershofen, which is about 8 km all in all to get back to my starting point (round tour).
First I drove to the ancient ruins of a castle called Leofels which is right above my real start in Hessenau. I thought I would have a lot of  time to sketch but the weather made it more difficult for me this time. Actually it was so cold that my hands hurt while sketching, although I had gloves on… began this direct watercolour of the ancient walls and entrance to the ruin of castle Leofels. It did not really dry so I gave up in between and finished the contrasting dark tones in my studio.
Then I drove down to Hessenau and parked my car where my last hike & paint Etappe ended and started my second one.
Began a pencil sketch of the mill in Hessenau, which was my todays starting point for the hike, but it was so cold, that I even did not begin to watercolour.  I packed the paper away to colour it later at home.
The mill building was nicely renovated and the winter trees had no foliage but a few dry leaves.
Had a short talk with a lady at Milch-Häusle and off I went. Took the way to the right side of the river direction Liebesdorf and it began to snow while I was walking.
Jagst river was very broad and the valley was not as steep as it was earlier. I had a wide view, although the snowfalls turned the landscape into grey-white.
As I reached Liebesdorf I had to cross another bridge which was a concrete one and sofore not worth sketching it.
Then the way to Elpershofen was not as nice as I thought because of the extreme traffic on the street but there was no nicer way where I could walk, so I followed the street.
My highlight: To my surprise the small restaurant was open to warm me up and I had a good warm late lunch and some time to relax  before going out into the cold again.
It did not snow any more and the sun came out. I made a fast sketch of the bridge in Elpershofen. No details, not many colours…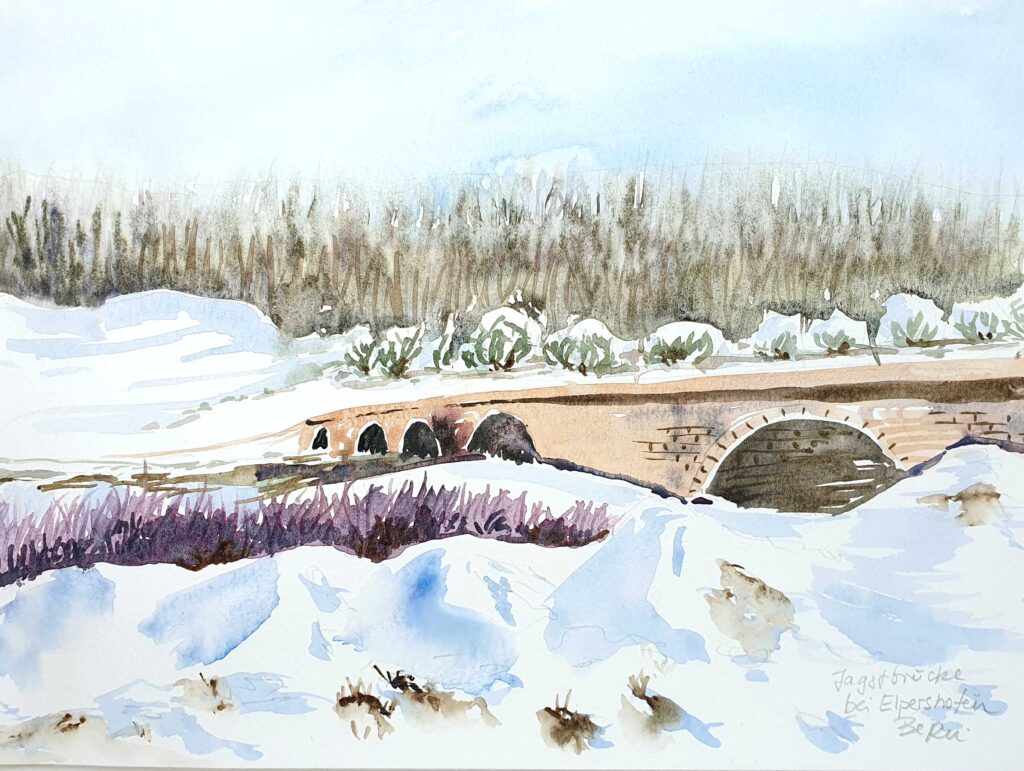 The landscape was turned into a white wonderland.

There is also a weir in Elpershofen, where in summer people go swimming. In winter there is total quiet. Saw two white herons on my way back along the other side of the river and one fox!
From down here, I could see the castle ruin of Leofels high above the trees and knew that I would soon be back at Hessenau where the car was parked.
Elpershofen will be my next starting point for my hike&paint at Jagst river.
This time it was really beautiful, but sooo cold. Thought that I would sketch more, but it was impossible to do so. Most of the colour work was done in the studio this time, but the experience to be out at any weather is a great one.
Did not need my picnic snacks this time, as I was lucky to find some restaurant for the lunch break. Going out to sketch in these weathers is a great experience, anyway I would prefer warmer weather…
Can't wait for the next hike&paint adventure…