JAGST hike & paint, Etappe 5, Neidenfels, Kernmühle bis Heinzenmühle
This 5th part of the journey dates originally from the end of February. It was the first unusually warm day this year. My report of that comes only now, as I would like to keep the story in the right order along the flow of the river.
For this journey I took a whole day off and changed my painting stool against a picnic blanket as well as sufficient provisions to have it comfortable on the way. My car was parked in Neidenfels.
At the start of the hike I could hear the noises from the nearby quarry. After passing a mill called Kernmühle I descend into Jagst valley. At first you would think you are in a fairytale forest with extremely green moss on trees and stones. The valley is steep like a canyon. You can see ruins (like in my sketch above) and you can see limestone formations on both sides of the valley.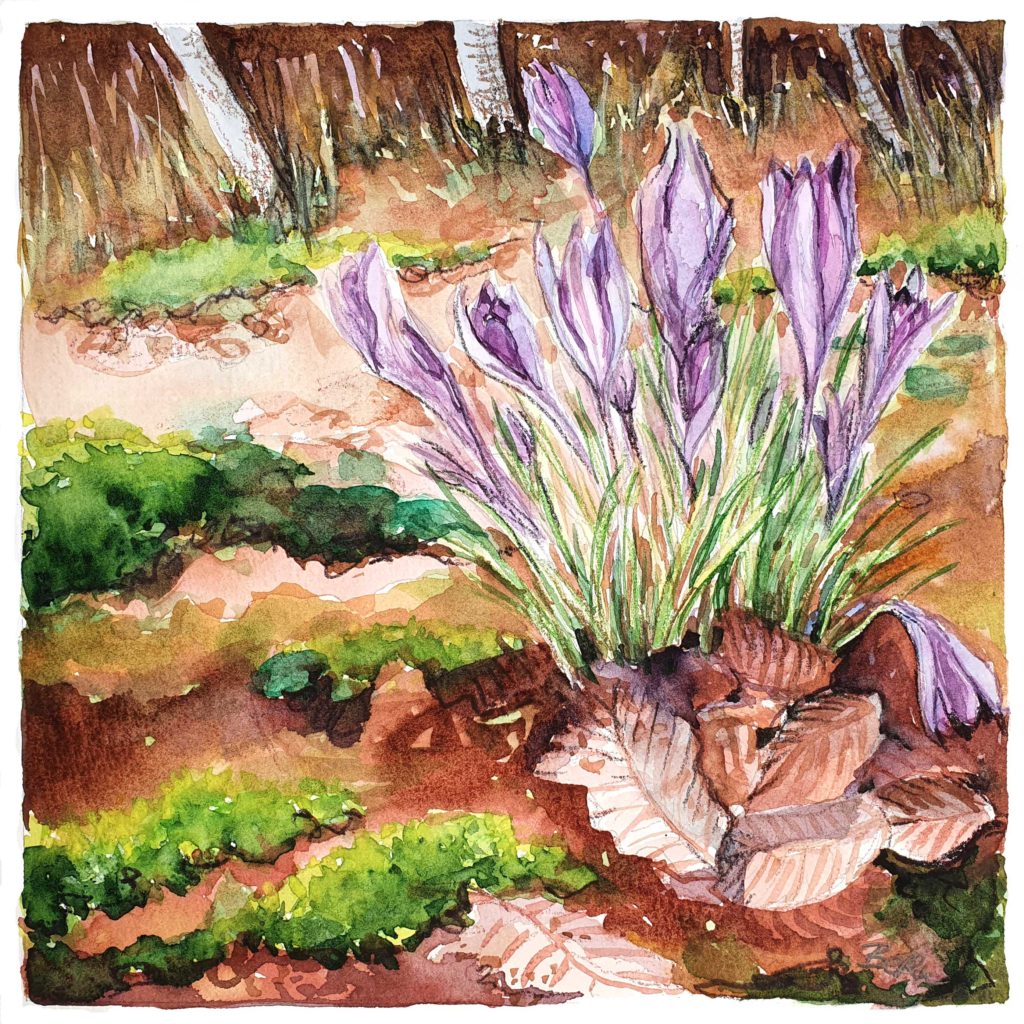 I see the first crocuses of the year which I definitely needed to paint. Further behind these little flowers there was a wooden stem that looked like a sleeping swan. It feels like being in an enchanted forest. After some time of continuing my way I see a scenic viewpoint where I make my first picnic. Quite luxurious to drink a good coffee and have a bite in the wilderness.
After that the area of the valley becomes much wider and a large gravel bed opens up in front of me. A short time beforehand (maybe two weeks before) it had been inondated by the rivers highwaters and I find a lot of green-brown shells that matches the colour of the water. The stones however are not very polished, but rather angular and rugged (see my watercolour above)
After a while I reach the inflow of Gronach creek into Jagst river. If you would follow the creek you would reach within about half an hour an ancient forge called Hammerschmiede (this could be another side story…). I make a second coffee stop and paint a small covered bridge over Gronach creek.
After all those smaller size watercolours I change to an A3 to be able to get most of the bridge onto my sheet. The trees are very mossy and still have no leaves. The Gronach creek splashes into Jagst river at this point. Below you can see a photo of my sketch on site.
I continue, crossing the bridge towards my endpoint. Still a hike below the Autobahn bridge to Heinzenmühle. There I make two swatches of the colour of the riverwater and it is time to hike the whole way back to the car.  I am done and it was a long, long day, but the good thing is that I can feel the sun on my skin.
Material: Clairefontaine grain fin 20 x 20 cm und Canson A3
Seen: 1 grey heron, 2 ducks, 5 deer, 7 hikers and a few brimstones
Duration: A full day
Weather: Early spring weather at about 18 degrees C, sunny!!!
Thoughts: Total luxury. Great picnic. Can't wait to be back on the track.