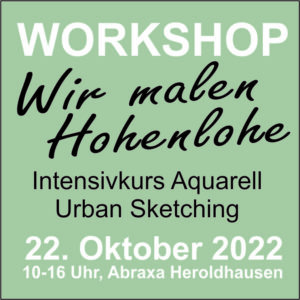 WIR MALEN HOHENLOHE

Nach ersten Übungen und Tips erfolgt das Zeichnen und Aquarellieren unserer direkten Umgebung draussen vor Ort.
Wir tasten uns zuerst mit kleinen Dingen am Wegesrand, wie Blumen, Steinen und anderen Details heran an komplexere Häuser- und Straßenszenen, an Bäume, Wasser, Himmel, Essen usw.
           VORAB-RESERVIERUNG Tel. 07954 8325
            Frau Hirschle-Zimmermann VHS Kirchberg
Teilnahmegebühr:      60 Euro
Teilnehmer: Min. 5, max. 10
Wir lernen: 
– Den passenden Bildausschnitt zu wählen
– Das Bild aufzubauen (Perspektive / Proportion)
– Licht und Schatten sowie Farbwerte bestimmen
– Mischtechnik im Aquarell sowie die Zusammenstellung einer Basispalette
– Farben leuchten zu lassen (Farbkombinationen und -Mischungen)
– Texturen (von Wegen, Hauswänden etc.) anzulegen
copyright B. Ruppert 2022
PORTRAIT IN AQUARELL
Zeichnen und expressives Aquarellieren von Portraits mittels Farbvorlagen. Übungen zur Mischung und Kontrolle von Wasser und Farbmenge. Bildanalyse, Farbwerte erkennen sowie Erklärung der verschiedenen Lasurschritte. Welche Farbtöne braucht man für die entsprechenden Mischungen (Basistöne für Haut, Haare und Schattenfarben)
Mitzubringende Materialien:
– Aquarellpapier A4 (oder grösser), mind. 300 g
– Aquarell-Skizzenbuch für Farbproben und Notizen
– Aquarellfarben
– Aquarell-Pinsel Grösse 12 oder grösser mit guter Spitze
– Bleistift und/oder Buntstifte, Radiergummi, Spitzer
– Wasserbehälter, Lappen, Fön bei Bedarf
VORAB-RESERVIERUNG Tel. 07959/9105-23
Frau Arnold, VHS Gründelhardt
Teilnahmegebühr pro Person: 90 Euro
Teilnehmer: Min. 5, max. 10
Some of my lockdown watercolours will be part of an exhibition in Poitiers, France:

If you're interested in taking one of my workshops, please contact me and I will add you to my mailing list. I'm also available to give a workshop in your city, if we can round up enough participants.
For more information, you can get in touch with me: bettinasbilder@gmail.com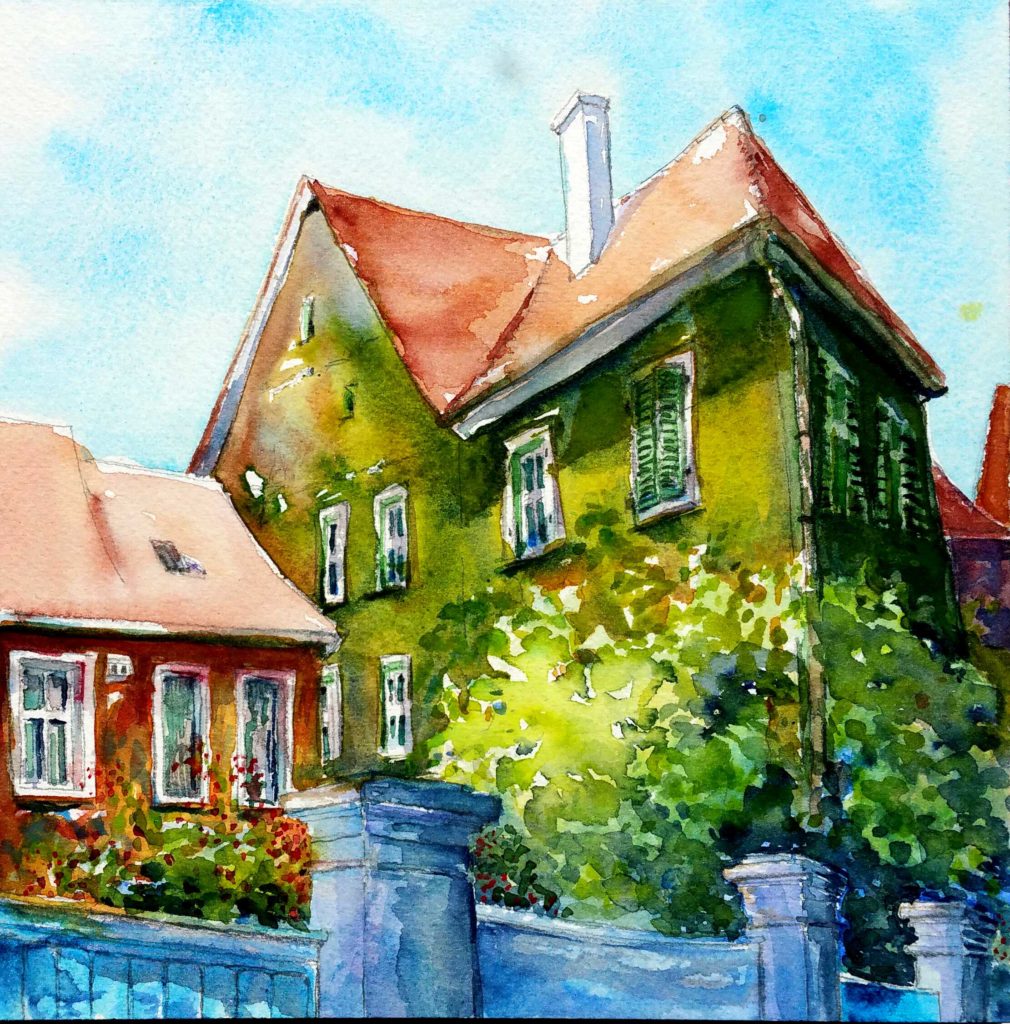 workshop watercolour for beginners
As a foundation we do a quick overview on colour theory and then jump into mixing and painting. Any level welcome, max. 15 participants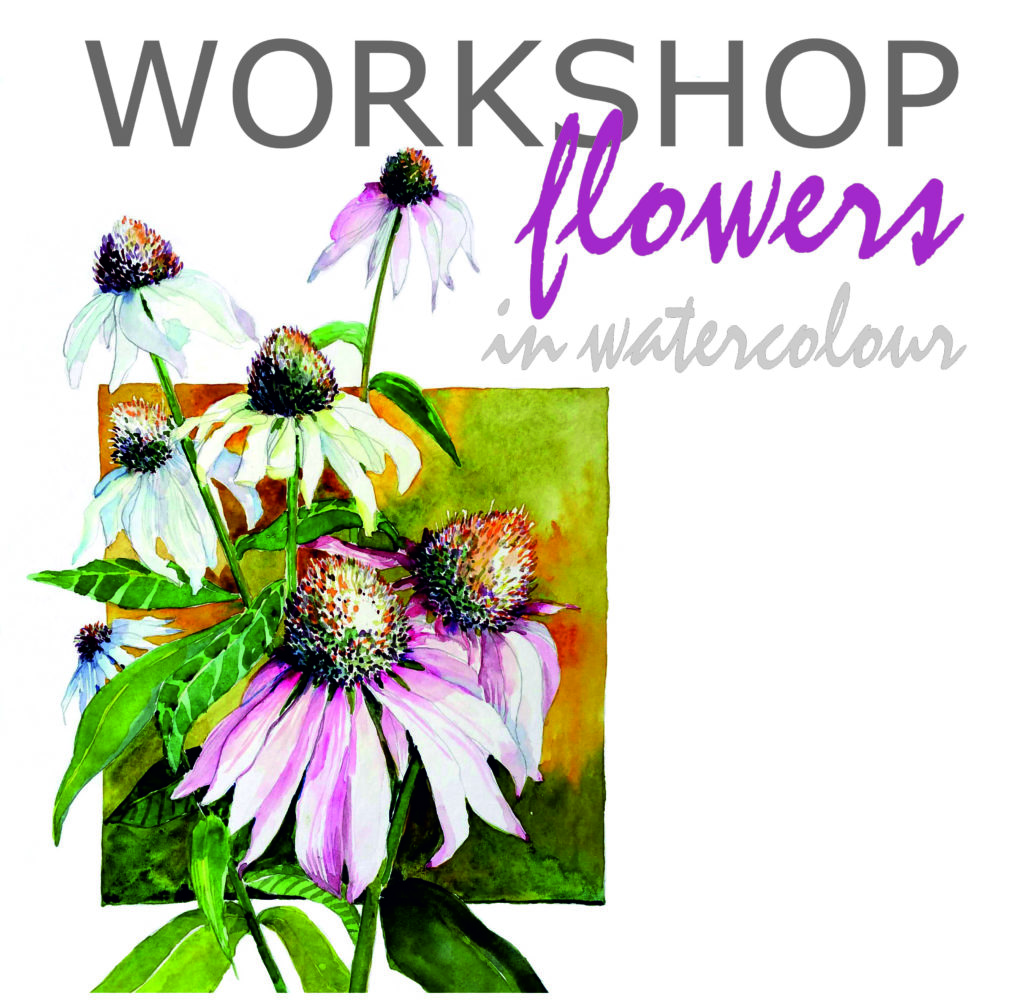 workshop FLOWERS IN WATERCOLOUR
We learn the fun of negative painting plus tips & tricks when painting flowers. Any level welcome, max. 15 participants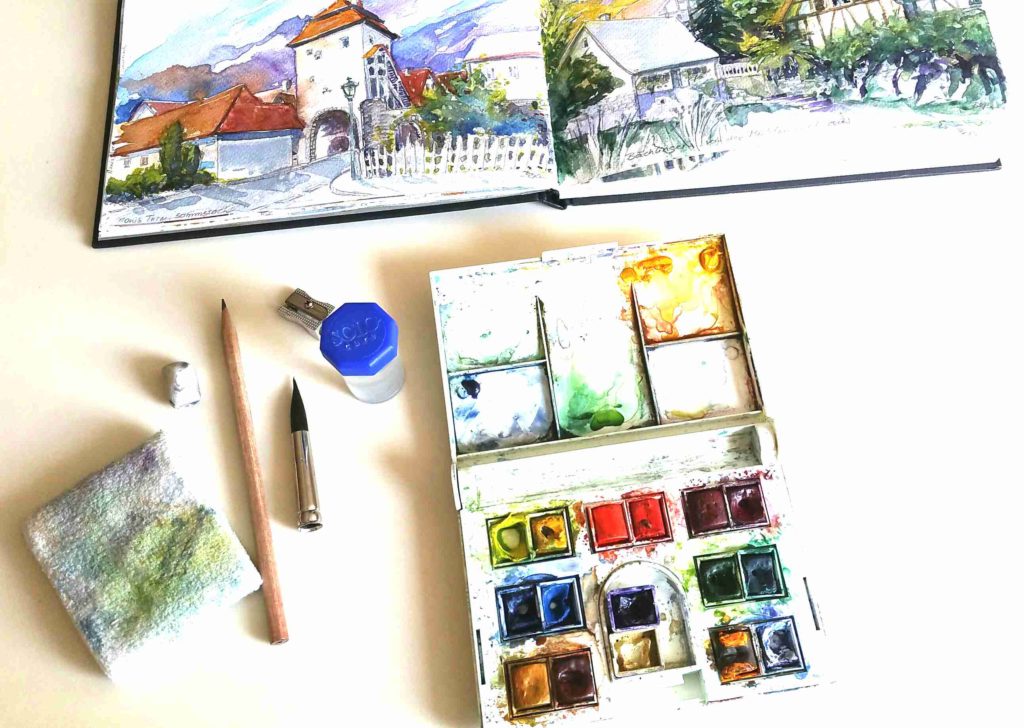 urban sketching workshop "my personal sketchbook"
Theme based sketchbook design
(i.e. your travel experiences)
We sum up drawings / watercolours plus text to create beautiful sketchbook spreads.
Our aim is to:
- draw quickly
- compose colours and layout
- add text
(3 sessions suggested) any level welcome, max. 15 participants.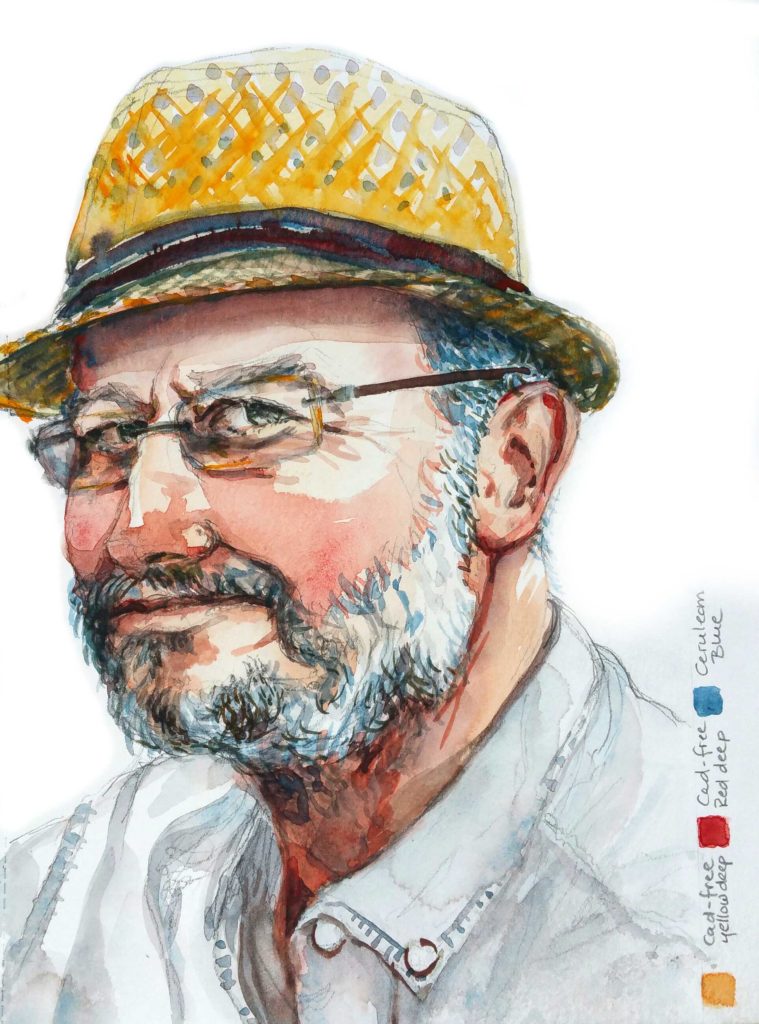 workshop portrait sketching in watercolour
This workshop is rather for advanced watercolourists, max. 10 participants
Escape the hectic world for a good foundation of drawing and painting to get more creative and relaxed.