Sketchtour Schwäbisch Hall
May 11 to 14, 2023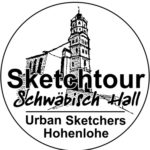 Schwäbisch Hall with its historic old town will be our next Sketchtour destination in Hohenlohe.
Lots of half timbered houses as well as baroque and renaissance buildings, small alleys and many beautiful views along river Kocher will boost our creativity.
Please register for the Sketchtour, if you decide to come. Registration starts on Sunday, Jan. 08, 2023. (places are limited, but free and confirmation will be by mail.)

Registration link will be online here on this site.

We are looking forward to see you in beautiful Hohenlohe
Katharina & Bettina
@rinibommel & @bettina_draws