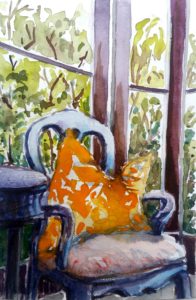 Sometimes mixed paints can look muddy or washed out and can make a painting look boring.
In my opinion the look is fresher if some of the colours that are used are unmixed and fresh to create a bright look. This does not mean that you keep your mixing palette extremely clean, as mixed colours and neutrals are absolutely needed as well.
In my upper sketch I used mixed colours all around the seat, but my focal point is the cushion and there I used a bright cadmium orange straight out of the tube.
As I start a sketch or a painting I first think about the colours I would like to use.  A good planning to get a fresh look would cover the following thoughts:
Keep some white space (white is our lightest colour in watercolour – you can mark the areas with your pencil if needed and erase the marks later)
Use bright, unmixed colours in some areas (which are probably the most important for you – focal points)
Care for colour temperature and
Value ( and if it helps, do a thumbnail first)
look for page composition as well as for colour composition before you start
Happy painting everybody.
Let me know what you do to bring a fresh look into your paintings…