JAGST hike & paint, Etappe 10, Lobenhausen to Mistlau
The day started early for me. The weatherforecast said, that it would be humid and hot, so it was a good idea to leave home early. A bit underslept, I parked the car right where I left off last time (due to the rainstorm.) I had a flask of coffee and what we call a "mayers-brioche" (brioche with three fillings: marzipan, nuts and poppy seed) and started with breakfast on my picnic blanket. What could be better than this! The small bridge looked appealing to me and the very dark shadows it cast onto the calm water cried: paint me…so again my first subject of the day was a bridge. It leads over a small side arm of Jagst river which is the inlet for the nearby mill.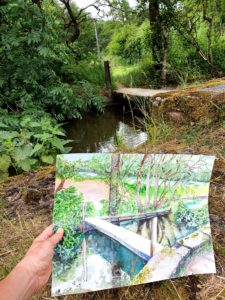 As I painted there, the birds were singing their morning song, while this time the frogs were relatively calm. I could see that lots of different dragonflies were speeding over the bushes by the water. I have never seen that many in one single place.
Two people came to take a bath. They did not stay for long.
I crossed the river again over large stones and tried to find a way into the forest to the right side of the Jagst. The undergrowth was so impenetrable that I had to turn back, unfortunately, bitten by some nasty nettles.
A  buzzard turned its rounds above me and disappeared again. Shortly afterwards a goose flew elegantly by.
I changed plans and followed the small road, heading towards Mistlau. This is another good painting spot to the opposite side and I tried to paint the silos of the Lobenhausen mill (Kochendörfer)(Another point of view). Last time I sketched the silos a bit too wonky, in my opinion, so this time I used a little ruler in parts of the sketch and aimed to do the perspective right (I usually seldomly use rulers, but was happy to have one in my backpack. I believe it speeded me up a bit).
It was around midday as I continued my track westwards.
The whole way to my endpoint village, I could perceive the smell of elderflower bushes.
Then I reached Mistlau bridge, which was destroyed during the war and rebuilt (with concrete…the design did not make it interesting for me to draw it.)
Within the village I saw that the restaurant would open again on certain days of the week and that they also begin having concerts again, which is great.
In my head: Next weeks hiking trip with friends which needs to be planned. So good to finally meet friends (still under distancing conditions), after that very long time of lockdown and sharp social distancing.
Eventually I continued in western direction, past the houses of Mistlau, Jagst river to my left side.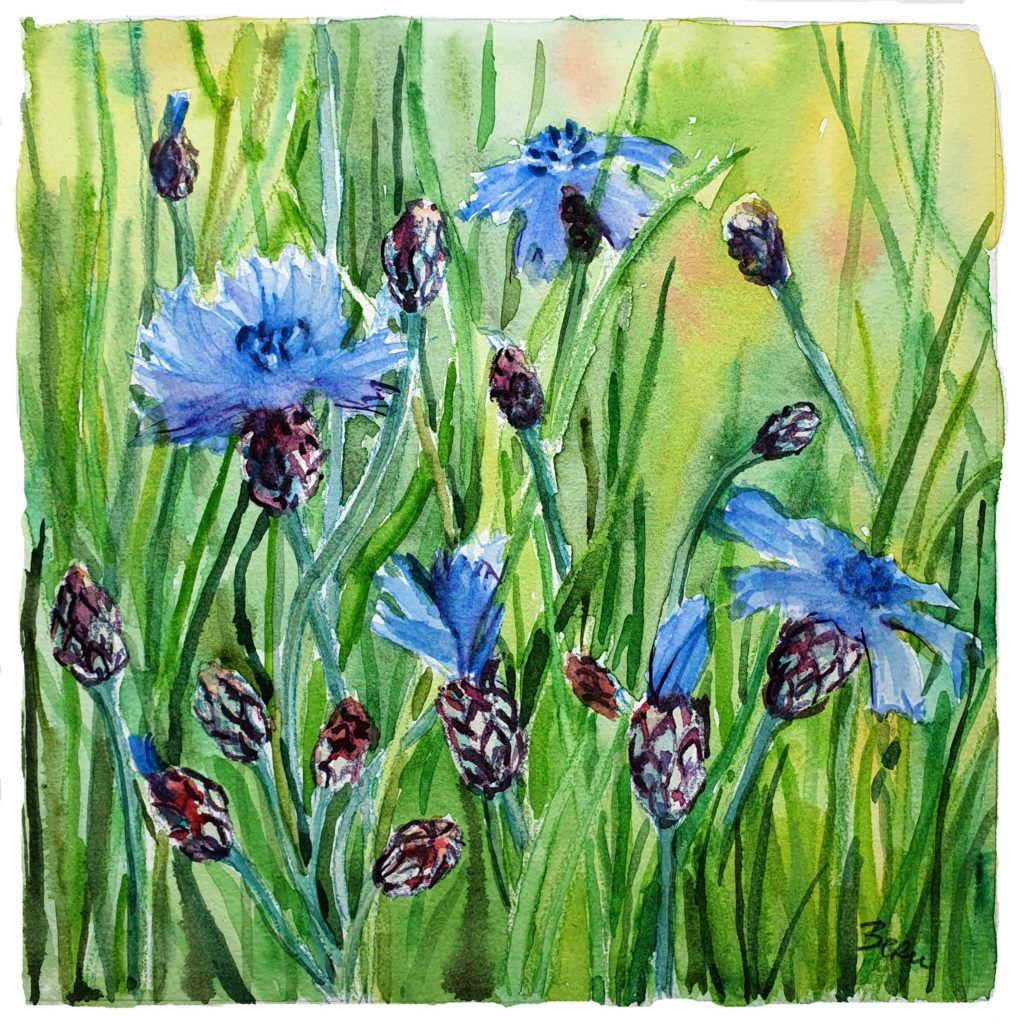 Beautiful flower meadows could be seen. This is where I tried to paint some corn flowers at the edge of a field. Later I started a closeup of one flower (see below), but did not get further than doing a pencil sketch. Next day in my studio I watercoloured it.
I could have done an extremely large variety of wild flowers in this preserved area, but it was already late…and I was tired.
Mistlau will be my starting point for next time. I expect to be able to paint more of the beautiful flora soon.
Shortly before I reached the forest in western direction, I finished my painting excursion. Time to walk all the way back to Lobenhausen where my car was parked. Energy level low, but happy about how the day developed.
Material: As usual my A3 and 20×20 cm sheets – … need to order a few more colours… different browns and greens are nearly gone.
Duration: Nearly whole day.
Weather: Hot and humid air. In the beginning some wind which nearly made me loose some paper. Luckily I grabbed it before it fell into the water.
Thoughts: Regrets that I could not travel to Poitiers, France, to see our group exhibition with some of my watercolours and lots of artworks from my French and Italian artist friends.
Seen: Two bathers, 6 bikers, 3 grey herons in the distance, 1 bussard, thousands of dragonflies, a goose, heard lots of birds and a few frogs, smelled the marvellous scent of elderflower all the way from Lobenhausen to Mistlau.
Each hike is so different and spectacular…can't wait for the next one.