JAGST hike & paint, Etappe 12, from Ockenauer Steg to the city of Kirchberg
Rain, rain, rain…I had to wait close to two weeks to try and find some more or less dry intervals to the start of my new Etappe no. 12.
Jagst river had very high waters because of the heavy rainfalls.
The day I started my next hike close to Ockenauer Steg, my mood was indecisive. Past the bridge I journeyed on to Kirchberg where I had painted several times last year.
The castle and part of the old city could be seen from far.
A good place to paint in the morning light. A large linden tree is half way to the city and the linden flowers spread their spicy scent all over the place. Three wooden benches to sit comfortably on this special energetic site below the large tree.
Time for a good coffee and as soon as I installed myself to sketch, I began a panoramic city view in direct watercolour. By then I was getting into a more focused and relaxed mood as with direct watercolour you need to be focused, otherwise you mess up.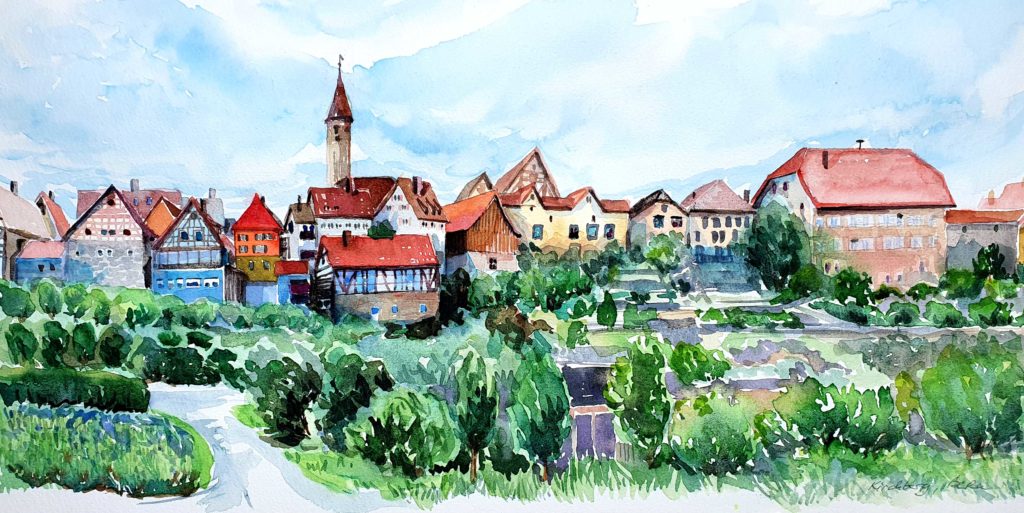 Lateron I walked towards the city, but before entering, I turned right to get closer to the river.  As soon as I reached the river again, I painted the old large stone bridge below the city walls. I tried to also capture in my watercolour the strongly moving high waters, that rushed through the bridge.
Then I made my way through Hofgarten towards the roundtour below the castle with all the nice, tiny gardens right outside of the surrounding city walls and this is where I found again a lookout bench to have another sip of my tasty coffee.
Some animals also crossed my way. Besides grasshoppers I also saw a squirrel that showed no fear at all and sat there munching something. After that, I entered the castle and crossed the city through those tiny streets. On my way back to the car I saw lots of flower fields.
The common chicory (watercolour, see above)  is a plant that now grows everywhere by the small gravel roads. I really liked the form and colour and the shadowplay of the plants and grasses, so I had to paint it.
It was getting warmer and there could be some thunderstorms coming later. After the flower painting I decided to head back to the car and drive to a bathing point by the river to have an evening refreshment after my work was done.
In my head: …"Dreamer" by Ozzi Osbourne, Sketchtour in Loket from 3rd to 5th of September
Material: A3, 20 x 20 and 20 x 40 cm watercolour paper , watercolour sketchbook
Seen: Very few people. Nice chats with locals. The smell of fresh linden blossom is incredibly nice.
Duration: Full day
Weather, after a long rainy period:  Warm and moist, in the end 28 degrees Celsius, no wind
Learning: Subjects to paint are endless in this beautiful area of Hohenlohe…